[et_pb_section admin_label="section"]
[et_pb_row admin_label="row"]
[et_pb_column type="4_4″][et_pb_text admin_label="Text"]Sripad Sadhu Maharaja is a person rare to find in this world.  As the former king of Munger, India, he decided one day to give up all his power and wealth to search entirely for pure divine love, prema. As an unique messenger of love he has travelled through South America and Europe emanating love and kindness.
Seeing real beauty in everyone and in everything, he unites people from various backgrounds, with  loving understanding and relationship, as he is acting and speaking from the platform of  the soul. His humble and sweet nature shines like a brilliant light into this world, bearing a wonderful experience for everybody who comes in contact with him.
Sadhu Maharaja got diksha in 1975 from Sri Sri 108 Radha Govinda das Babaji and in 1996 he took sannyas from Srila Bhakti Aloka Paramadvaiti Maharaja. Since 1995 Sadhu Maharaja is traveling through South America, North America and Europe where he is speaking about bhakti.
His grandparents and especially his grandmother had a great influence in his life. His grandfather Raja Raghunandana Prasad Singh would manage the State's affairs and the rest of his time he was doing bhajan and service. His grandmother Rani Sarasvati was a saintly person who inspired him from childhood on to become a devotee and she taught him how to serve the Vasihnavas and Sri Sri Radha Mohan.
From 1965 to 1980 was his sadhana-time. He lived like a beggar in Vrindavana with a ghamsa and a chaddar. After his father passed away Sadhu Maharaja was searching for his spiritual master. He finally found him again in Vrindavana: Sri Sri 108 Radha Govinda das Babaji who told him that he already initiated him in his childhood.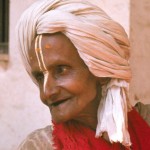 Radha Govinda das Babaji lived for five years with Sadhu Maharaja in Munger Mandir, Vrindavana.
Now Sadhu Maharaja lives mostly in Munger Mandir, Vrindavana, except for occasional tours to the West every other year. His aphorism, "love in action!" has inspired many charitable projects in India.
Beauty of Divine Love
"I started life eating with a golden spoon. I lived in a palace and I had twenty of my own servants. Krishna had given me everything, without any effort from me. I put this down to my past samskaras. I must have done something right in my past life to have it so easy this time. When I went to school, and later to collage, many people wanted to befriend me because I had everything I desired. I had eight personal cars, including a Rolls-Royce, which I changed every year for a new one. When I went to Diamond Jubilee Collage, which belonged to my family, I was above the principal. He would ask me what to do, and my professors took great care of my needs. I graduated with a Bachelor of Science degree and took over the family businesses. It was very difficult for me to understand the material world. I just enjoyed it and made more business. With all my wealth and enjoyment, I did not feel deeply satisfied. I looked at my elders and their spiritual practices to which I was connected, being president of our family temple. They looked very happy, so I began to question what I was doing.
One day I decided that I was going to give up all my business activities and not to do anything except to start searching for divine love. That was twenty years ago. I found it in my spiritual master, Sri Sri Radha Govinda Das Babaji Maharaj. When I met my master, I was immediately taken by his behavior, by his softness and his love. I surrendered completely and faith took hold of me. My master said he saw the day when I would preach to people on the other side of the world using love, and that they would love me. I told him no, that I had no capacity for anything like that, because I was very poor in spiritual life. He gave me his mercy and showed me the path of understanding.
My master sent me to meet His Divine Grace Bhaktivedanta Swami Prabhupada. Swami asked me who I was and when I told him, he embraced me and said that he and my grandfather had been good friends. Swami Prabhupad gave me guidelines. When I told him what I was doing in my life, with my many business duties to take care of, he asked me why I was wasting my time. Swami reminded me that my grandfather had managed his duties and still maintained a sincerely devoted spiritual life. That shocked me, and my life changed even more toward the path of devotion.
Reality is when you understand the heart. We are not just the body; we are more than the body. I am living in this house, but I am not this house. Similarly, we are living in this body – it is like a house – but we are not this body. Our existence is not the external body. You are more than the body. Your soul lives in this body and it simply moves on. The soul comes from Super Soul. We come from there and we have to return there. The true meaning of spirituality is this relationship to Super Soul.
I went to South America in 1995 by invitation and in Colombia I started to preach to the people. They loved me so much and I realized it was time to take sannnyasa. I went to Miami in 1996 to take my vows and that experience changed my life forever. I did not become a sannyasin to build big ashrams, because I had many ashrams before. I hade enjoyed airconditioned rooms before, so I have no desire for that eighter. Now I serve humanity, by giving service to people from my heart, because I understand that is my real duty in this life."
There's more nectar about Sadhu Maharaja in the Introduction to a King.[/et_pb_text][/et_pb_column]
[/et_pb_row]
[/et_pb_section]