[et_pb_section][et_pb_row][et_pb_column type="4_4″][et_pb_text]
Cow seva means taking care of cows!
In India and especially in Vrindavan, the land of the cowherdboy Krishna, the custom of care for cows is most significant.
The cow is seen as mother who provides the milk, origin of various delicious products as butter, ghee, curd, cream, cheese ect.
The cow is generous and therefore a symbol of compassion.
Munger Mandir Temple, where Sadhu Maharaja lives, takes care of 6 cows.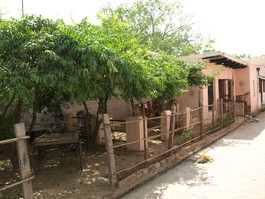 The running costs are covered by donations from fiends, sponsors and well wishers from all over the world!
[/et_pb_text][/et_pb_column][/et_pb_row][/et_pb_section]